The Rusty Nail Winery in Sulfur announces the launch of Saving Grace, an Oklahoma wine benefitting congenital heart defect research.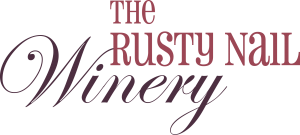 On Saturday, November 12, The Rusty Nail Winery in Sulphur, Oklahoma will launch a new wine benefitting congenital heart defect (CHD) research during the winery's twelfth-anniversary party. The wine, a California shiraz named Saving Grace, was created in honor of winery owner Melissa Alexander's daughter Elliot Grace; $2 from every bottle sold will be donated to organizations supporting CHD research to help increase longevity for children born with congenital heart defects.
Saving Grace will launch on November 12, 2022 at the winery's all-day anniversary party, themed around the phrase, "All you need is love and wine." This event is open to the community and will feature live music, door prizes, and a full day of activities. At 5 PM, winery owners and mother/daughter duo Debbie and Melissa Alexander will provide live remarks, a wine toast, and free birthday cake. The wine toast will be made in honor of Elliot, who will be in attendance, and will allow attendees an opportunity to try the new Saving Grace shiraz. Free anniversary party tee shirts will be available all day to attendees who make a donation to CHD research.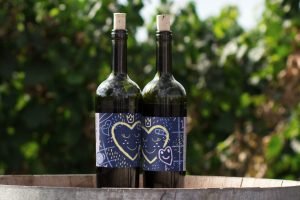 Learn more about the event and Saving Grace wine at rustynailwinery.com/events.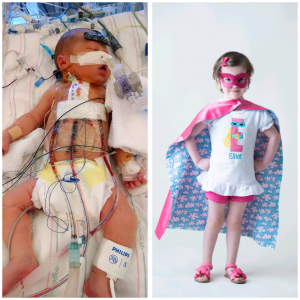 Elliot-at-3-days-vs-Elliot-at-5-years
Elliot Grace, the inspiration for the new wine, was born with a congenital heart defect in June of 2014. At just three days old, she had her first open-heart surgery, followed by her second five months later, and her third at only two and a half years old. Now eight years old, Elliot and her mom Melissa are advocates for CHD awareness and research and have raised over $80,000 for the cause so far. Saving Grace marks their latest effort to fundraise and advance their impact.
"My work supporting CHD research is the most impactful thing I can do, not only for Elliot, but for the 40,000 babies born each year with a CHD. They each deserve a fighting chance that is not possible without continued advancements in research. Elliot is with us today because of CHD research and I could not be prouder to honor my little heart warrior in this way," Melissa says.
Saving Grace also features Elliot's CHD-inspired artwork, showing friendly heart characters with a band-aid and crown.
"We have been working with The Rusty Nail Winery for years, and we were especially honored to provide the packaging design for Saving Grace. Starting from Elliot's own original heart-focused artwork, we translated her ideas to the label to ensure that as the inspiration for this bottle, she remained at the forefront," Tiffany Lea Haendel says. Tiffany's company, Toast Design Studio, partners with The Rusty Nail Winery on marketing and design.
SATURDAY, NOVEMBER 12 SCHEDULE
12:00 PM: Winery Opens
12:30 – 3:30 PM: Live Music: Washita Rivers & The Grinders
4 – 5 PM: Live Jazz Band
5 PM: Remarks, wine toast, and free birthday cake
5:30 – 7 PM: Live Jazz Band
8 PM: Winery Closes
ABOUT THE RUSTY NAIL WINERY
The Rusty Nail Winery is family-owned and female-led, with mother Debbie and daughters Melissa and Leah at the helm. Debbie began making wine as a hobby and passion project, but it soon took off with requests from friends and family. The pieces fell into place, and The Rusty Nail Winery opened to the public on September 25, 2010.
Today, Debbie and Melissa operate as business partners, but the whole family supports the winery in less official capacities. Today the winery offers over 25 locally-produced wines.