This weekend is the Grand Opening of Legally Brewed's new location at 123 West Main Street in downtown Norman!
It all began in 2017 when a group of friends with a passion for craft beer started building a dream. In the beginning, armed with a Mr. Beer Kit, it became abundantly clear that three gallons of beer at a time was simply not enough for them and they decided to go big or go home… and we are oh so glad that they that they did!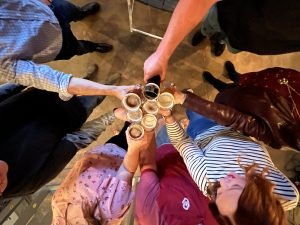 Legally Brewed became the "legal" name (sorry about the pun lol) mainly because one of the owners is a lawyer, he basically argued and won the case! As you walk into their new space you are greeted by a welcoming smile from the bar, and an atmosphere reminiscent of a school library where you feel safe and well cared for. Around the back you will find more seating and a stage fit for any type of entertainment from stand up, to karaoke, to your favorite musician…absolutely a perfect place to spend an evening with your friends while having a cold one.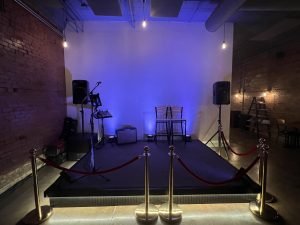 Speaking of cold ones, there is something for everyone…from Pale Ale's to Dark Stouts, they have you covered. We took the liberty of pulling their amazing beer list from their website for you:
In Court Now!
Beer that is on tap currently.
Nolo Contendere 6.6% abv
A chili lime ale.  No contest, this was a fan favorite during our homebrew days.
Millions of Peaches 6% abv
Our sour base with enough peach flavor to make it peachy keen!
*Our attorney has advised us to tell you that this beer DOES NOT contain millions of peaches but only enough to give it a peach flavor.
Good Morrow Pale Ale 6.4% abv
A pale ale base we added just enough blood orange to soften it up. Smells like orange crush, but has the bite of the hops, and a soft finish of blood orange on the back. very crushable!
Sovereign Stout 8.1% abv
This dry Irish stout has a great smoke flavor with a nice dry finish. Great for those mid-March holidays, or year round!
Moody Blues 6% abv
A sour ale with those sour kids candy that you find in patches! This beer has edible glitter added to it to give it that much needed sparkle!
Disco Lemonade 6% abv
We took our sour base and added pounds of those lemon candies that go to your head. Then just for fun we added yellow edible glitter to give this fun beer the sparkle party it needed!
Heated Argument 6.6% abv
Our chili lime beer, but we didn't remove all the pepper seeds. Then for fun we run it through a randall device to kick up the heat even more! Ask for it dressed with Tajin!
Per Diem Pilsner 5.1% abv
A crisp and refreshing traditional pilsner with no additives!
Liberty Lager 4.6% abv
A light and refreshing lager. This one could hold court session after session.
Broken Scales IPA 7.8% abv
We broke the scales with the amount of hops we added to this West Coast style IPA.
Justice Warrior 7.2% abv
Our award winning NEIPA, now thiolized with phantasm powder! Hazy-Hoppy-Juicy
The amazing owners of Legally Brewed are community minded and love the opportunity to be involved and give back. They are excited to bring you a new official stage during the Norman Music Festival that will be loaded with Oklahoma hip-hop and R&B! They are also excited to be a must stop during the monthly Norman downtown Art Walks!
Next time you are downtown, make sure you stop in, say hello, catch a show and try one of their amazing craft beers! Follow them on social media at @ legallybrewedco for updates on all the cool happenings and new beer releases!
You can also learn more about Legally Brewed at legallybrewedco.com