New Years is Here!
New Year's Eve Hotspots and Activities in Oklahoma
We're rapidly getting closer to the end of the year, and you might want to close out 2022 in the Sooner State with a bang. Maybe you're on the hunt for the best year's end activities and hotspots where you can spend some time on December 31st.
Let's talk about some of the best New Year's Eve activities and locations where you can spend time around the state of Oklahoma this year. There are choices that should appeal to everyone, whether you are single and ready to mingle or whether you'd prefer some family-friendly options instead.
Free Rockin' New Year's Eve Dance Party

Maybe you want to ring in the New Year, but your bank account is not exactly flush at the moment. Perhaps you also have some little ones who are going to be spending the day with you. If you're in Moore on December 31st, why not check out a free dance party at the Moore Public Library?
Kicking off at 11:00 am at the library, this family-centric event will last approximately an hour and features a balloon drop, dancing, music, and arts-and-crafts for the kiddies. Mingle with the other parents while your children get a taste of what New Year's festivities are all about. The best part is that this is one party where you're guaranteed not to have a hangover afterward.
Adele Wolf's 11th Annual New Year's Eve Bash

Anyone in Oklahoma City at the end of December who's ready to put on their dancing shoes and party all night long should look no further than The Auditorium at the Douglas. That's the location of the 11th Annual New Year's Eve Bash, hosted by the inimitable Adele Wolf.
This is a world-class revue that's reminiscent of a Vegas lounge act. Fans of glamor and glitz should enjoy the dancing, live musical performances, and the signature cocktails at the bar. Fancy dress is encouraged, and you can commemorate the occasion by taking some snapshots in the photo booth. Doors open at 9:00 pm, and ticket prices range from $25-$65.
New Year's Eve Party at Parlor

There's one more party in OKC that's worthy of your attention, and it's the upscale soiree taking place at Parlor. Those in the know can tell you that Parlor is one of the city's most happening nightspots, so dress to impress. Maybe you'll spot someone who's worthy of sharing a passionate kiss with you when the ball drops.
Your $65 VIP ticket comes with three free drinks. Choose from cocktails, wine, champagne, or beer. You can also walk out with some swag, and there's a balloon drop at midnight. A live DJ will be spinning tunes from 8:30 pm till 1:30 pm. Bottle service is available for all you high rollers.
Let's Get Fizz-ical New Year's Eve Party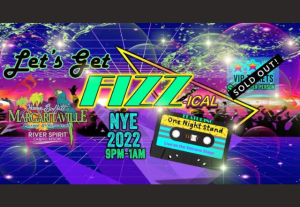 If you're in the vicinity of Tulsa for New Year's Eve, you might want to check out the Let's Get Fizz-ical event at Margaritaville on Riverside Parkway. This party runs from 6:00 pm to 10:00 pm, so it will finish up before the ball drops. You can start celebrating right after dinner and then keep it going at a house party to close out your evening.
There are limited $75 VIP tickets that will get you into the upstairs bar. The musical stylings of One Night Stand will rock the house while you nosh on Island Appetizers and the enormous Volcano Nacho Bar. Don't drip any cheese on your Hawaiian shirt! Who's to Blame customized margaritas are the drink of choice at this Jimmy Buffet-themed event.
New Year's Eve Kids Countdown
We've got time to mention one more family-friendly event for all the moms and dads out there who need something to do with the kids during the day on December 31st. In Sand Springs, you can round up the family and head to Skater Rollertainment. Get ready to strap on the skates and show your children how you used to tear up your local skating rink back in the 80s.
This event takes place from 1:30 pm to 4:00 pm, so you can drop the kids off with the babysitter and still make it to an adult-themed New Year's Eve party later that night if you'd like. The Kids Countdown will cost you $15 per person, and that comes with skate rental, a party hat, a horn, and a glow stick.
Opening Night Downtown OKC
Ring in the New Year at Oklahoma City's largest and most anticipated annual event, Opening Night 2023. If you're looking for some sense of celebration but don't feel like going out alone, there are a variety of events planned just for you starting Thursday December 31st! Different ticket prices offer different levels of access to fun celebrations. Tickets start at $8 USD which grant people live entertainment until 2am PST (subject to change). General admission tickets cost between $11-14 USD per person where prices depend on how many nights people plan to attend – so pick wisely according to how much money you want to spend or if you're hoping for an adult experience where alcohol is served within reasonable bounds (depending on location). For the cheap general public who wants festivities from dusk til dawn it costs an affordable $20 USD (plus fees) per person with no drink minimum so enjoy yourself however you please – whether that means popping bottles or busting some moves.
Enjoy ringing in the New Year wherever in Oklahoma you find yourself this year. Get those New Year's resolutions ready as you put 2022 in the rearview and launch into 2023 with style.