The Best Places in Oklahoma to See the Christmas Lights in 2022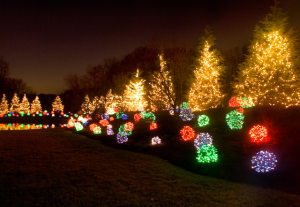 The Christmas season is a time of the year when many Oklahoma residents and visitors like to get together with friends and family members. If you belong to either of these groups, you're probably looking forward to eating some tasty food, exchanging gifts, and reflecting on another year that is almost in the books.
You may also be one of the many individuals who associate Christmas light decorations with the best of what this season offers. If you're stringing lights outside your house, maybe you aim to have the neighborhood's largest and most elaborate display. You might choose to take it a step further, though, and track down some of the state's best public displays of Christmas lights.
Let's explore some of the best places to see public Christmas light displays in all of Oklahoma. These locations should be ideal for instilling you and everyone else in your group with the proper festive spirit.

"The One" Christmas Tree in Enid
If you live in Enid, Oklahoma, or you're able to visit there this holiday season, there's really only one display of Christmas lights that is absolutely indispensable. That is the Christmas tree that locals refer to simply as "The One."
The One is the largest Christmas tree in America every year. It's even bigger than the famous tree in Rockefeller Center by the ice-skating rink. Opened on November 25th, 2022, The One, also sometimes referred to as the Christ Tree, towers over a collection of booths that should captivate the whole family.
There are several theme nights at the Christ Tree in Enid between late November and the end of the year. They include Storybook Night, a Christmas Critters Pageant, and a Christmas Lights Parade and Fireworks.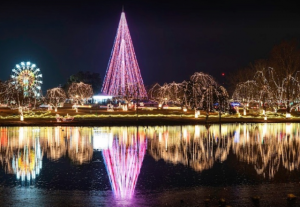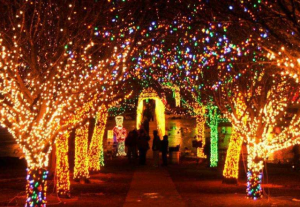 The Festival of Lights in Chickasha
Those who live in Chickasha or plan to visit there this year can check out the extravaganza known as the Festival of Lights. This event is a beloved Christmas tradition that is thought of as one of the ten best holiday light displays in America. It features a total of 3.5 million lights.
You can amble through four miles of resplendent walkways that will dazzle the eye. The festival's centerpiece is a 172-foot Christmas tree that towers over the festivities like a benevolent deity.
You might also choose to stay in your car and cruise slowly through nearby Shannon Springs Park. There are hundreds of animated displays set up with various holiday themes. Traditional holiday tunes are piped in from speakers to round out the experience.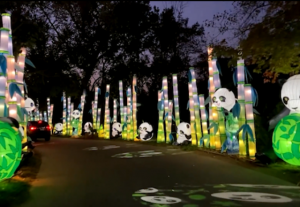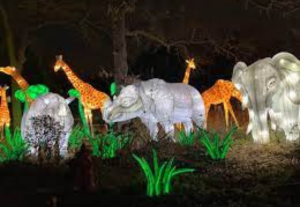 The Safari Lights at the Zoo in Oklahoma City
If you're in OKC, you have several excellent holiday lights displays from which to choose. Our personal favorite has to be the Safari Lights display at the OKC Zoo.
Families can stay toasty in their car while driving slowly along a wildlife-themed path. It's a glittering one-mile expanse near the Children's Zoo area. Once you get there, you can park and exit the vehicle with your family. Your kids should be delighted with the walkable holiday experience they'll find there.
You can nibble on some seasonal baked goods and visit with Santa. There are also several photo opportunities that should be ideal if you want to send adorable family pics to any relatives you won't get the chance to see this holiday season.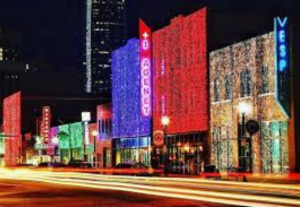 Downtown in December in Oklahoma City
We will briefly mention one more OKC Christmas lights display that might appeal to you if the zoo is not your particular cup of eggnog. The Downtown in December event is another fun stop that should yield plenty of fun and goodwill for all OKC residents and visitors alike.
In addition to the lights that adorn the downtown area during the season, you will find dog races, snow tubing, concerts, and more. You can also shop for last-minute gifts at the Deluxe Winter Market and in the Holiday Pop-Up area.

Guthrie's Territorial Christmas
If you're celebrating the holiday season in Guthrie, the county seat of Logan County, the Territorial Christmas event is the best place to see some holiday lights. This extravaganza has taken place for more than 35 years, and it hearkens back to a bygone era.
While you'll see plenty of Christmas lights symbolic of modern times, you also get some of the flavor of the county's Territorial period. At the city's Victorian Walk, you can watch an Old West Gun Fight reenactment. There's also a parade, tours of historic homes, and guided Victorian night walks.

Kingfisher Winter Nights in Kingfisher
Residents and travelers passing through Kingfisher, in the state's Northwest region, will probably enjoy spending some time walking or driving through the Winter Nights event that begins in late November and continues through December 25th. Millions of twinkling lights adorn historic Kingfisher Park. You will find the trail dotted with over 70 lighted displays, many of them featuring delightful animatronics.
The highlight is the swing bridge that crosses Uncle John's Creek. Lights adorn the bridge, which was first built in 1903. You can stop in the middle and see the brilliance reflected off the water. It's a glimmering spectacle that is guaranteed to rekindle your love of the holiday spirit.
Santa appears on some Winter Nights in Kingfisher to take pictures with the kids, and you can also grab a cup of hot chocolate while riding the miniature train through the park. There is even laser tag offered on a couple of special nights for anyone looking to burn off the calories from all of those Christmas cookies and fruitcakes.
Wherever you are in Oklahoma this holiday season, you should be able to find a Christmas light display to gladden your heart. Remember that this season is about love, generosity, and the warmth of the human spirit. There's no better way to celebrate all of those things this year than by getting together with family and enjoying some of the Christmas lights that illuminate the entire Sooner State.