Boozy Jerky ~ Booze Infused Beef Jerky…Prepare to Pair!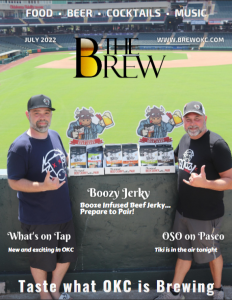 Jerky has always been a long consistent companion for travelers and those desperately trying to find a snack that's both healthy and delicious. Jerky is one of the most satisfying snacks, it's filling, flavorful, and portable. But in recent years, jerky has transcended its status as a quick-fix gas station snack. A new era of craft jerky is among us, and the leader of the pack (pun intended) is Oklahoma's own Boozy Jerky. 
As a kid growing up in the wine country of California, Shaun Grey lived off of jerky of all kinds, from his local deli counter in his small hometown. In fact, his family had their own recipe and would make their own. From a young age, Shaun knew that there was a market for his family's treats and wanted to get them in the local wine stores and tasting rooms. Something different to pair with the local wines. In a market that is already over-saturated with craft snacks, he knew he needed to try something different, which sparked the idea of marinating his jerky in wine. After a while, he noticed that something was missing. While the wine jerky was selling, he wanted to broaden his market. Enter craft beer. At first, there were 4 separate flavors, 2 wine options, and 2 beer options. Time after time the beer options would sell out much faster than the wine option. Shaun knew he was onto something new and exciting- Boozy Jerky. 
With Boozy Jerky growing it was time to shift focus on craft beer flavors and pairings. The 2 original beer-flavored jerkies were Spicy Citrus IPA and Peppered Stout, both you can find today. But Boozy Jerky needed more. Shaun met up with his old wine mentor here in Oklahoma and the two worked hard to grow the company with new flavors and a new audience. They knew they would need reinforcements, local craft beer specialists. Shaun reached out to the Oklahoma Craft Beer Club and soon met local craft beer enthusiast John Campe. John had been active in the Oklahoma craft beer scene for years; he was the perfect fit in the Boozy Jerky family. Together they created new flavors to pair with various beer types. Besides just the IPA and Stout, they made a pairing for Pilsner with garlic rosemary (this writer's personal favorite), Ale with mango habanero, and Lager with spicy maple syrup. Each flavor was created not to just go with that certain beer style but with wine, cider, bourbon, or anything else your heart desires. It really is more of a pick your perfect ending and pair what tastes good to you.
As boozy Jerky was growing, they wanted their fans to be able to grab their favorite jerky at their favorite local stores. Soon they landed their first big partnership with On Cue. From there the Oklahoma market welcomed them in Homeland, Grocery Saver, local liquor stores, and local taprooms. With its exponential growth in Oklahoma, it was only natural that Boozy Jerky spread its wings and reach out to other states. As of now, you can find Boozy Jerky in national grocery stores and breweries in 21 states! 
With such great success in Oklahoma and the love and support of the craft beer drinker, Boozy Jerky wanted to create something special and only for Oklahomans. Their goal was to partner with a local brewery for a special collaboration limited edition partner pairing. Boozy reached out to local craft brewery Roughtail. Roughtail is known all over Oklahoma for their ERWO, Everything Rhymes with Orange IPA. It was the perfect pairing, and Everything Rhymes with Jerky was created. The Roughtail collab recipe is designed to be the perfect complement to the beer and bring out all the absolute deliciousness of both the jerky and the ERWO as well. Try dipping the jerky in your next pint at the brewery for an extra special treat…. you're welcome. 
While Boozy Jerky is infused with beer, it won't get you drunk. It will however change your mind and taste for jerky forever. Each bag is filled with the most tender and flavorful pieces of jerky. It has lower sugar and sodium than most other jerky products on the market. Allowing you to enjoy your jerky without all the guilt. A healthy, tasty, and local snack- what else could you want? 
The future is bright and unlimited for Boozy Jerky. Boozy is constantly growing in different state markets with their own local brewery partnered pairings and stores. They also just released their first liquor pairing with award-winning Bourbon from Breckenridge Distillery. They even just released a larger size offering 8 oz of jerky compared to the regular 4 oz. But don't take just my word, or really the words of countless hundreds of fans, try Boozy Jerky yourself. Check out their website, BoozyJerky.com, or follow them on social media @BoozyJerky for news, updates, and giveaways. You can also use the checkout code TheBrew for a special discount at BoozyJerky.com. 
So next time you get the hunger, whether it be at the local taproom or store, or you want to create the perfect pairing for whatever you are drinking, go ahead a grab a bag or two of Boozy Jerky. Your wallet, stomach, and local businesses will thank you.
Check out Boozy Jerky's website here Boozy Jerky