Fourth Fridays are back!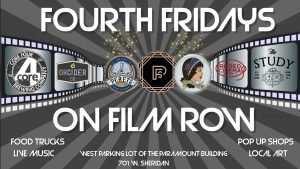 Fourth Fridays are back! Visit the historic Film Row in downtown Oklahoma City. Attendees will
enjoy food, drinks, giveaways, art, live music, and more. Many local businesses will also be open for
extended hours. The event is free to attend and is from 6 PM to 8 PM on:
 June 24th, 2022
 July 22nd, 2022
 August 26th, 2022
 September 23rd, 2022
In the 1930s, Sheridan Avenue became a showcase for theater proprietors seeking to display and rent movies for their film houses. Dubbed "Film Row," the location became home to film companies such as MGM, Paramount, Warner Brothers, Universal, and Fox. Recent renovations celebrate the area's movie heritage. Fourth Friday on Film Row will feature live music from I am Hologram, Woody & Sunshine, food from Callahan's Chicago Dogs, and many local artists. The events on Film Row are free to attend and are from 6 PM to 10 PM.