Hank's Hangout: Skydance Brewing Co Pays Homage To Its Native Roots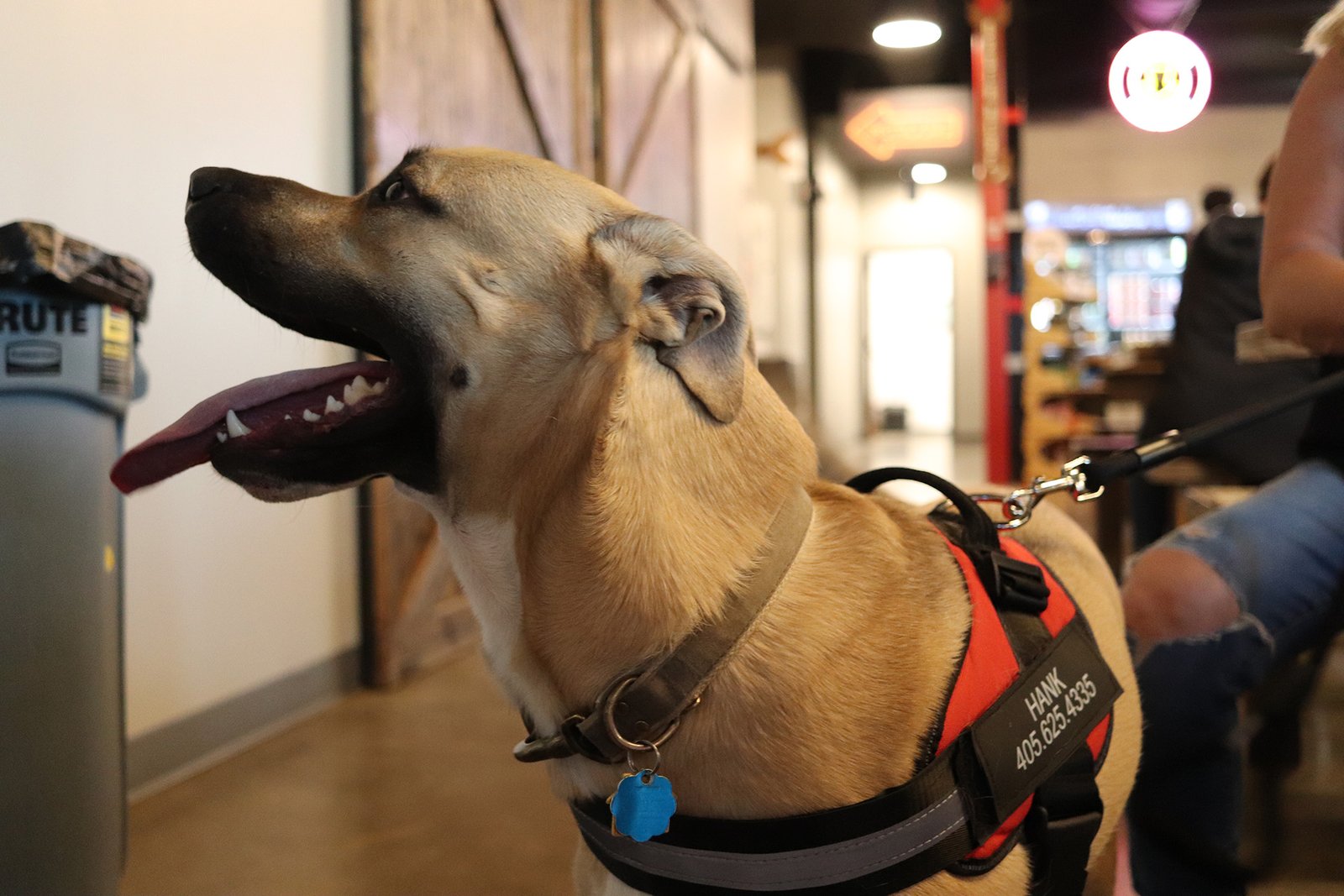 Welcome to Hank's Hangout – Hank the dog's favorite places to go with his human. Hank is The Brew's 2-year-old Anatolian Shepherd Mix adopted from Oklahoma City Animal Welfare. At 65 pounds, Hank is curious, playful and loves attention.
He also loves to socialize when his human is out with friends or enjoying a meal and a drink, so we've enlisted Hank to help us find the coolest dog-friendly hangout spots in Oklahoma City
Skydance Brewing
Tucked away at 1 NE 7th St, one of Oklahoma City's newest breweries is perfectly positioned to be a dog's favorite hangout in downtown. Just mere blocks from the urban condos and apartments in Deep Deuce and Bricktown and situated between the 9th Street Barking Lot Dog Daycare on NE 10th and the The Dog House Dog Daycare on N.E. 5th St., it just makes sense that Skydance Brewing Company would get a lot of residual doggie traffic.
"We are in a great position, and we get a lot of people with dogs who wander in here," said Skydance Brewing Co.'s founder Jacob Keyes. "We love having dogs on the patio. We welcome dogs inside as well." 
With that thought in mind, the brewery's massive outdoor patio and wide-open concrete interior is more than welcoming to dogs. In fact, the only place where dogs aren't allowed is the upstairs game room, due to the furniture in the area.
In the future, Keyes and Skydance plan to offer more for their furry customers, like curated dog treats and dog-friendly events and contests, but for now, Oklahoma City's newest brewery is getting itself into the groove of slinging beer downtown.
Skydance Brewing Co. is also Oklahoma's first fully Native American-owned brewery. Keyes himself is a member of the Ioa (Iowa) tribe under the umbrella of the Absentee Shawnee tribe of Oklahoma. Besides serving handcrafted brew to Okies, Keyes also has an overreaching mission to inspire other Native American entrepreneurs in the state.
"It's the idea of natives supporting natives. I think what's important for Native Americans to do is to figure out ways we can be bigger players in the economy and politics of the world that we're living in," Keyes said. "We are not going back to teepees and no electricity, and none of us want that anyway. But we do have to figure out ways to not only survive in this world we are living in now, but succeed in it too."
Keyes often speaks to entrepreneurial groups, tribal organizations and on college campuses, and he said he wants other tribal youth to start dreaming about owning their own businesses. In his brewery, he honors his Native American heritage with the branding, decorations, and support of Native American artists.
"We want authentic Native American artwork from Native American artists," Jacob said. "Everything we do here honors our heritage, from the artwork to the branding to the beer."
His brews also have a heritage flair to them. For instance, Skydance Brewing's Fancy Dance hazy IPA pays homage to the most popular style of Native American dance seen at modern day pow wows. This heavily dry hopped hazy IPA showcases Citra, Mosaic and Simcoe hops, bringing a huge punch of citrus and tropical fruit flavors to your palate.
Oklahoma's unique history comes through in The 49, an oatmeal stout brewed with flaked oats for a creamy full body, roasted barley for a slightly roasted coffee flavor, and pale chocolate malt for that smooth chocolate taste. The 49 is named after Oklahoma tribes' late-night parties, usually held in a secret location after powwows. This recipe belonged to Jacob's late father, and the story behind it became the inspiration for launching Skydance Brewing Co.
As summer rolls in, Jacob and the Skydance Brewing team expect even more local and doggie traffic. The expansive patio and relaxed open interior are roomy enough for big crowds and excitable canines. 
"This summer, we are planning some great dog events, " Jacob said. "On the weekends already, the patio is just packed with people and their dogs. We love it."
For more information on Skydance Brewing Co., visit skydancebrewing.com.