It's a Hidden Gem ~ Hamilton Superette & Lounge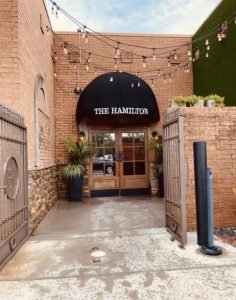 Have you ever wanted to transport yourself to a British pub? The Hamilton Superette & Lounge will take you there with their red telephone booth and Oxford University library vibes. You can find this hidden gem tucked away inside NorthPark Mall off 122nd and N. May Avenue in Oklahoma City.
My first impression was that I fell in love with the ambiance. All the stylish detailing, old books, and vintage objects making the space full of charm and character. There's cheeky animals positioned about, and the light fixtures are visually stunning!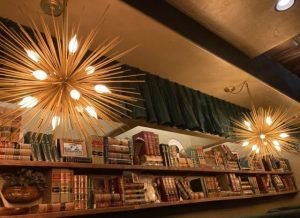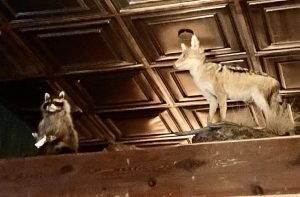 Enough about that. I didn't come here to admire the furnishings. I came here to devour a fantastic meal! On my first visit, I ordered way too much food! Which means there were happy leftovers the next day. I narrowed my choices down and decided on the 6 oz. filet mignon which was paired with whipped potatoes. I added a side of Mac & Cheese, as I had been told was amazing by a friend of mine.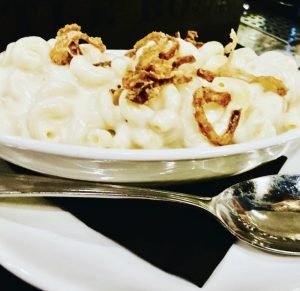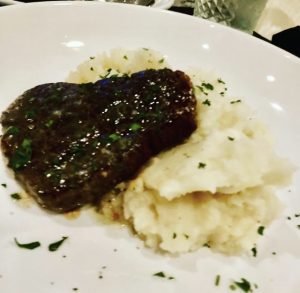 The Mac & Cheese is a two-cheese blend made from Jack Cheese and house-made Boursin which has a similar texture and flavor to cream cheese. The creamy concoction is poured over and mixed thoroughly with Cavatappi (corkscrew) pasta. I'm not going to lie, it was pretty heavenly and there was plenty to take home for the next day.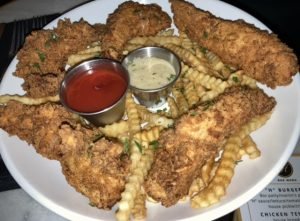 The Hamilton has an extensive beer, cocktail, and wine list for you to select from and I started with a Cosmopolitan (very Carrie Bradshaw of me!). I moved over to the Pineapple Express which is constructed from Plantation Pineapple Rum, lemon juice, orgeat with flavorful tajin coating the rim.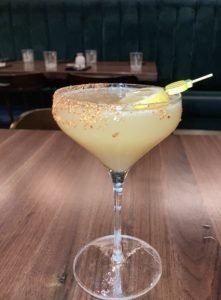 The Pineapple Express was fruity and delicious! I may or may not have had several of these that evening. All I know is I liked the tingly feeling my lips felt due to the spices, ha! I highly recommend this drink specifically now that summer is upon us as this was a very refreshing cocktail.
Sometimes a meal is not complete without something sweet. The Hamilton has several desserts to satisfy your sugar cravings. This might make you a little nostalgic, but you can even order cookies and milk.
I opted for the cheesecake because obviously, I like to punish myself, ha! Decadent cheesecake topped with gooey chocolate, caramel, pecans, and two tubes of Ballotin Turtle Whiskey inserted in the center of the cake. This is pretty much the adult version of those little wax soda bottle candy, remember those? If you're a cheesecake lover you will really enjoy this rich, creamy, indulgent dessert.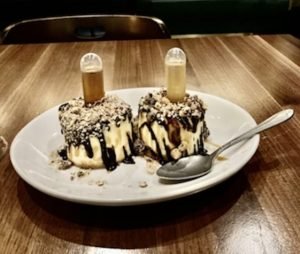 The Hamilton supports live music by inviting talented local musicians to play for their guest's listening pleasure. Reservations are highly recommended for this popular spot, as it does tend to get super busy at times. You can quickly reserve a table on their site (thehamiltonokc.com).
Besides their normal menu items, be sure to ask your waitstaff about their happy hour menu options. On my second visit, I picked the chicken tenders that are accompanied with French fries. This was an excellent choice and I definitely recommend it. The strips are juicy, flavorful, and decent portion size. You probably will need a to-go box or it's a great size to share with friends.
The Hamilton Superette & Lounge is an extraordinary date night locale or a much-needed girl's night out spot. The atmosphere is elegant yet relaxed at the same time. The cuisine takes normal comfort food and puts their unique spin on them to create a special dining event every time you go.
Next time I plan on selecting the Tomahawk Pork Chop, which I've heard is phenomenal! Plus, I am eyeing their Bananas Foster crêpe, which sounds like pure bliss: Rum, butter crêpes with Tillamook vanilla bean ice cream. Can you say yum?
Variety is the spice of life and there's no shortage of variety at the Hamilton. Go give them a try next time you're looking for a new to you restaurant. Cheers!