Keeping it Lokal in Yukon
Oklahoma cuisine is synonymous with comfort foods comprised of down-home hearty meals. Menu offerings from The Lokal in Yukon strive to promote Oklahoma staples from Chicken Fried Steak, mouthwatering cheeseburgers to fried catfish, a variety of salads, and scrumptious sandwiches. There's something available for everyone in your dining party.
The Lokal is one of the few restaurants that offer locally raised Bison meat on the menu. Guests can select Bison Meatballs as an appetizer, Bison Burger or Bison Meatloaf as their main entrée if you're looking for something a little different to dine on.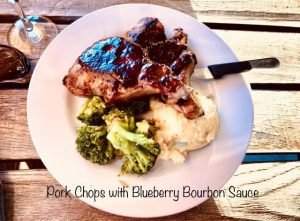 The Bone-In Pork Chops is a guest favorite. Grilled to perfection topped with in-house created Blueberry Bourbon Sauce. The sauce is delicious and can be purchased next door at The Lokal's boutique shop. Shoppers can browse clothing, jewelry, sauces, condiments, and other collectibles to take home.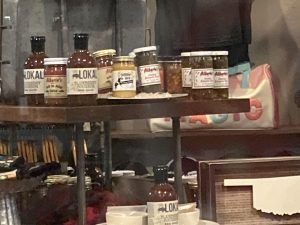 Situated directly on historic Route 66 makes the location a favorite stop for travelers and nearby residents alike. If you're looking for the perfect photo op, venture around to the backside of the building where there is a huge building-length mural that pays homage to Yukon and Route 66.
If you're fortunate enough to be there on the right evening, you can catch a glimpse of a beautiful Oklahoma sunset setting behind the iconic Yukon's Best Flour Mill. Don't worry, the mill lights are still pretty on a night when the sunset would be deemed mediocre by Oklahoma standards.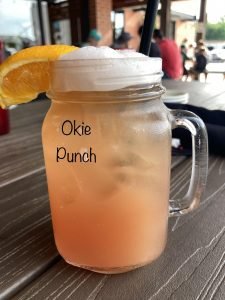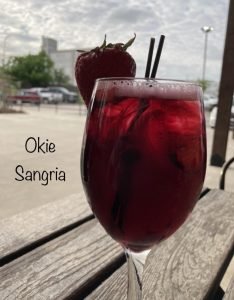 A full-service bar stocked with craft beers, local wines, and plenty of cocktails is ready to quench your thirst. My personal recommendation is to try the Okie Punch and the Okie Sangria. You can't go wrong with either. Adult beverages pair well with their popular Fried Deviled Eggs appetizer.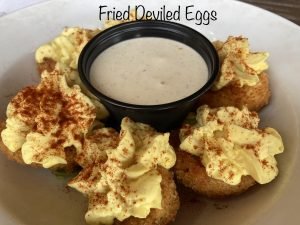 Live music on the patio makes this an ideal hangout spot for your friends and the location is family-friendly with kid menu options. Next time you're in the mood for a taste of Oklahoma stop by The Lokal.