Oklahoma Brewers Fest returns for the Second Annual Craft Beer Festival
The Oklahoma Brewers Fest returns for the Second Annual craft beer festival from 11am to 8 p.m. on June 18 at the Chickasaw Bricktown Ballpark, 2 S. Mickey Mantle Drive, in Oklahoma City's Bricktown.
Featuring only Oklahoma brewers and craft breweries from across the state, the event showcases the hoppy talent and tastes of Oklahoma beer. More than 50 state breweries are on board, and beer fans will have more than 500 different types of beer to sample.
Additionally, many of those brewers will unveil a special beer release just for the craft beer festival.
"The good thing about this year's event is the Saturday before Father's Day, so it's a great time to bring dad out," said Tabbi Burwell, executive director of the Craft Brewers Association of Oklahoma. "We have 50 Oklahoma breweries that will be present, and you will not see any other large beer brands that are not Oklahoma focused.
The Oklahoma Brewer's Fest will offer two VIP and general admission sessions that day. The first VIP session is from 11 to noon with the first general admission session set for noon to 3 p.m.  The second VIP session is from 4 to 5 p.m. with general admission following from 5 to 8 p.m.
"So essentially you get four hours of drinking for both sessions if you are a VIP," said Burwell. 
Tickets are available at https://craftbeerok.org/brewers-fest/. VIP tickets are $65 with general admission set for $50.
"Typically, each brewery might bring anywhere from three to four different beers, so we could have 500 different types of beers to try," said Burwell. "We had 2,100 people attend last year, so we will close ticket sales once we reach 2,500."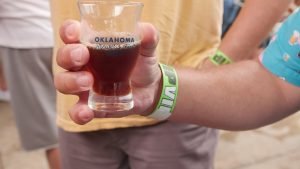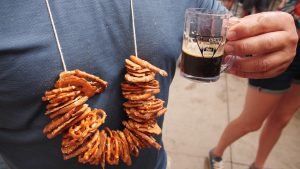 SIP IT AND KICK IT
The Chickasaw Bricktown Ballpark is an excellent choice of venue, including offering plenty of food options and a covered concourse. The event features more than just beer though.
"We have a DJ that will be there, and this guy is just amazing," Burwell said. "We will also have a 360 photo booth for digital photos. Something that is new and exciting this year is that we really encouraged our vendors and even our breweries to create experiences."
Some of those experiences include giant beer pong, a dizzy bat game, and a beer run in which competitors race with a serving tray full of beer. The winner earns a cooler full of Coop Ale Works beer.
"This year, we're having the OKC T-Shirt Company on-site and they'll be doing live printing.  So you can go and pick out what you want, what color, what design you want, and then they'll make your custom shirt for you," Burwell said.
HOW TO SURVIVE A BEER FESTIVAL
If The Oklahoma Brewers Fest is your first beer festival, don't worry. Although you can sample as many beers as you like, most of the samples will be 2 to 4-ounce pours. An Ozarka Water Tent will also be available, as will food to help absorb some of that alcohol.
"Plan to have Uber and Lyft or even the OKC Streetcar get you to your destination if you're going to be drinking," said Burwell. "It's important to drink responsibly. A lot of the beer is a high point, so you should prepare by drinking a lot of water before and after."
The beer festival is also a great way to explore the different tastes and styles of craft beer, she said. For newcomers to the craft beer scene, it's a perfect opportunity to sample different styles to find a beer you enjoy.
"I think you're supporting local businesses. These are all Oklahoma brewers, so if you are coming out with dad or with friends, expect to have a good time, but know that you're supporting people who work every single day for a small business to thrive," Burwell said.
"These brewers work very hard for what they're doing and they donate all of this product to us to be able to put this festival on."
For more information or tickets, visit  https://craftbeerok.org/brewers-fest/.