Scott Miles… The Deep-Voiced Crooner That Can Melt The Vinyl Off A Record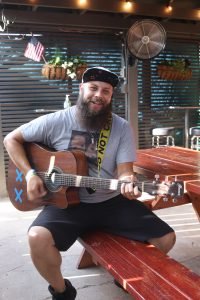 It all started in High School…isn't that true for most of us? But for Scott Miles, it completely set the course of his life after his friend Nathan started a band and learned that Scott could sing. Most of us know Scott as a deep-voiced crooner that can melt the vinyl off a record, but with a band, they named Negative Zero, he was a pop-punk front man that sang high-pitched lyrics and jumped around the stage in an effort to mimic the tone and behavior of their favorite bands.  
It wasn't until Nathan wrote See You Soon, a song about the death of a friend, and asked Scott to sing it that he started to find his true voice. Because the song had no previous renditions, he found himself outside the realm of singing covers and to a place where he could bring true feeling and intention to his singing. This allowed Scott to dig deep inside and experiment with different tones and registers. He really began to like the sound of his lower register and what he sounded like so he began smoking and drinking in an effort to bring the lower pitch to fruition. 
Once Nathan taught him how to play some power chords on the guitar, he absorbed all that he could musically. Even after Nathan had to leave the band, Scott intended to keep Negative Zero going with his friend Robbie. He even started writing more songs that felt truer to himself which started to move them away from most of the pop-funk sound and more toward hard rock. These are the years that helped develop Scott's stage presence, interaction, and how to work a crowd. 
But like everything else, things change. A marriage, a move to Oklahoma City, and then sadly a divorce, all made Scott feel like a dark cloud was over him. He admitted, "I didn't want anybody around me so I lost a lot of jobs."  He was going through his mind, dealing with the divorce…all the emotions and drinking a lot…going to bars to play, spending hours upon hours practicing songs he wanted to perform, writing new lyrics, and learning new songs. 
It was then that his introduction to open mics came about and he had never done anything like that before. His good friend, Gentry Counce, was hosting various open mics and told him about the Hideaway Club where he began to join in and show off his talents. Over time and through these open mics, people started to notice him. When Gentry decided to step down, Scott gladly picked up the gauntlet and took over hosting duties. He told us; " I mean I love it…I love doing it and still do it today." It progressed and soon different bar managers in attendance started witnessing his abilities and asked him to come play at the open mics at their bars.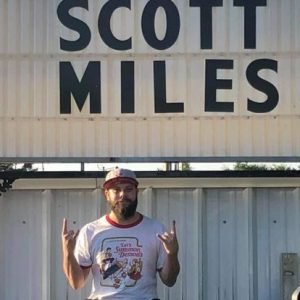 You can always tell a lot about a musician by the music that they listen to and when asked about his influences growing up, Scott's musical talents started to add up. "I listened to a lot of pop-punk stuff, heavy stuff you hear on the Katt radio station like Korn and Slip Knot, but my favorite band is Clutch with their bluesy rock sound. That low gritty voice is the sound that I am striving for. I want my voice to be so distinct that it is recognizable." Well, I am pretty sure you are there sir!  You can see Scott's influences by the handful of originals that are thrown into the mix when he plays live. You are drawn in by his obvious feelings, emotion, and the energy he shows on stage. 
Speaking of originals, I Don't Mind the Pain is a new single that Scott just recorded with Trevor Thornton at Audio Trilogy in Blanchard and was released in July. You can listen to it on Spotify here I Don't Mind the Pain. Plans for a full-blown album are also on the horizon looking for it to drop sometime next year. 
Although solo gigs are Scott's main focus, he has started a band appropriately named Scott Dammit and The Double Dangs, that is doing some pretty amazing things. Brandon Bell is on bass, Neil Lewis on the guitar, a rotating drummer, and Scott, of course, on vocals and guitar. Keep your eyes peeled for more about this group on the horizon!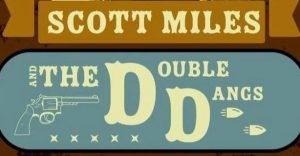 So where can you find Scott Miles on a normal basis you ask?  
Sundays at Zodiac Club

3506 N MacArthur Blvd, Warr Acres

 

Tuesdays at

Hideaway Club

4418 NW 39th St, OKC

Thursdays Open Jam night at

Brewskeys Bar and Grill

2600 S Meridian Ave Ste E, OKC
You can also find future shows on his Facebook and Instagram so check there for updated information.