Stonecloud Brewing Company ~ At the Forefront of a Beer Awaking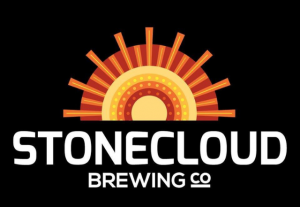 Oklahoma City is having something of a beer awakening. It seems like every other month a new brewery  pops up. Between laws changing and the love of craft beer growing, it's no surprise to see such a boom in the Boomer state. With all the new, you still have to give credit where credit is due- and that's with the OG OKC breweries. And when you think of OG's, of course you automatically think of Stonecloud Brewing. For the past 5 years Stonecloud has been a constant in the Oklahoma craft beer scene. Always producing top of the line beers with a laid back and welcoming attitude. And to celebrate everything that they have done for OKC it's about time we learn about how Stonecloud came to be.
It all started by a man named Joel Irby from Stillwater. Joel has always been attracted to nature and beer. He left Oklahoma for Colorado where he could pursue those two passions. While in Colorado he honed his brewing skills with some of the great breweries like Boulder Beer Co and Avery. After 9 years of brewing in Colorado he knew he wanted to bring back what he learned to his home state here in Oklahoma. In 2017 Joel made the big move back to OKC and decided to find a spot in the city for his brewery. He knew that he wanted the brewery to represent his passion for nature and rock climbing, another Colorado pass time. He knew he wanted to combine his love of rock climbing into his brewery and that's how the name Stonecloud came about. He recalled a time where he climbed over a mountain and before him was 'stone clouds. He knew it was the perfect fit. In fact, you can still find remints of his climbing past all over the taproom. Speaking of taproom, Joel knew that he to find an old rustic building to fit with the brewer's theme. He partnered with Pivot and together they found an old, abandoned laundromat on the out skirts of Film Row. Sunshine Laundromat was the perfect place to now call home to Stonecloud Brewing. It was historic and had character with its original bricks and tiles. It was in a new developing part of the city, and they wanted Stonecloud to be part of its surrounding community.
Now with a name and building it was time to start brewing some beers. Stonecloud has always been first and foremost about quality. Beers that approachable and popular for level of beer drinker. The first core beers where Journey Home Apricot Sour, Madmartigan Sour, Straight Juice Bro Brett Pale Ale, Turtlehead Coffee Stout, Neon Sunshine Belgian Wit, Astrodog IPA and Havana Affair German Pilsner. With a great starting lineup, Stonecloud was able to branch out and create unique one of a kind, limit release beer, and now you can say their pretty famous for it. Each year Stonecloud can create 50-75 different beers, along with the now core beers Chug Norris Pale Ale, Neon Sunshine Belgian Wit, Havana Affair German Pilsner, Astrodog IPA, Mellow Cold IPA, and Stonecloud Lite Lager. Want a sweet and irresistible stout try some Fluffy Fingers. Or maybe a creamy seltzer?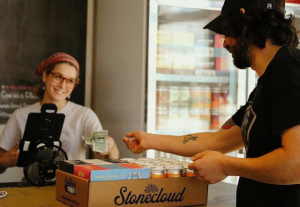 May I suggest a Smooshie smoothie seltzer. They have everything from Double IPA's to Sours to Mexican lagers. Speaking of Lager's, that's something Stonecloud takes very serious and very personal. In fact, some may say the best lagers you can find in OK are from Stonecloud. They love them so much they dedicate an entire section of their taproom to them, the Lager Lounge. The Lager Lounge is Stonecloud side event space. It is sometimes open to the public, serving only their world class lagers. It can also be rented as a private space, allowing you to host a party with a beertender to serve. To make sure you can enjoy your lager  the best possible way, the lounge bar even has special taps called a side pull. Creating a creamier, velvety beer and peak lager enjoyment status.
However, if you are a true Stonecloud beer aficionado then you are probably aware of their famous Orbit. The once-a-year anniversary barrel aged stout. It's become something of a legend here in OKC and quite possibly everywhere else. After every orbit around the sun (get it, opening anniversary) they  release a special bottle and patch. Well like I mention earlier it is officially anniversary season at Stonecloud. That means Orbit V is about to blast its way into your heart and belly. This year Stonecloud isn't just releasing a beer. Nope.  Check out their entire list of beers here!
While 5 years brewing is an incredible accomplishment, that's not the only thing Stonecloud celebrated this year. In June Stonecloud opened up a second location in Joel's hometown of Stillwater. The new location will feature all the same great beers you can get in OKC, but they also have a small pilot system allowing for some unique Stillwater styles. With location to near and dear to Stonecloud they knew they wanted it to become just as much a part of the Stillwater community as it has with OKC. Stillwater will host and encourage local talent, another way to create a stronger community through beer.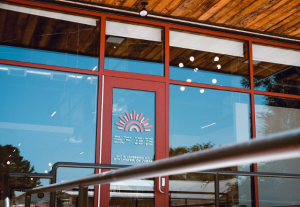 Stonecloud has always wanted to create an inclusive and inviting vibe, one that encourages people to hang around for several hours, whether it be to hang with friends, play board games, read a book, or just enjoy the sunshine on the patio. They want the brewery to continue to grow and most importantly be a part of the amazing Oklahoma community. Oh, and to keep making beer and having fun.
Check out Stonecloud's website and sign up for their newsletter to keep up on all their new beer releases and events!