The Best Food is Made With Love in the Plaza District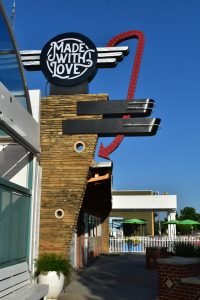 Food is one of my love languages, as it is for many people. Food's main priority is to be nourishing of course, but food can also be warm, comforting, and reminiscent, and certain foods can bring you pure joy. Upon learning about the newly opened eatery in the Plaza District, I was ecstatic to go try it out for the first time!
The first thing I noticed about Made with Love, brunch is served seven days a week. This is perfect for those who cannot make it to traditional weekend brunch. Made with Love is across the street from Bad Granny's Bazaar on NW 16th Street, situated between the Neon Coffee Bar and Cheers Cannabis Co. it's impossible to miss the location, look for their amazing sign out front that directs your way.
The interior furnishings are aesthetically pleasing. Beautifully decorated with a kind of industrial mix of exposed brick, metal, wood, and soft, plush pastel-colored chairs to soften up the indoor seating area which would be an ideal place for a bridal shower or birthday party. The large outdoor space includes two covered sitting areas making it a great setting to celebrate a special occasion or hanging out with friends.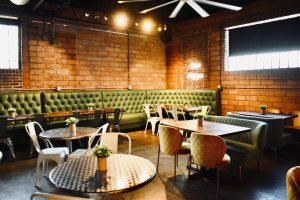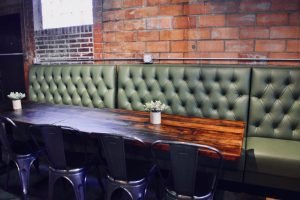 I dropped in to sample their brunch menu. I narrowed down my cocktail choice the Lavender Margarita, because it's never too early in the day for tequila, right? I made the right choice. Tequila, lime juice, Cointreau, lavender simple, lavender sprig with a lovely lime to garnish the rim. The drink was wonderfully made and remarkably refreshing on a hot, almost-summer day.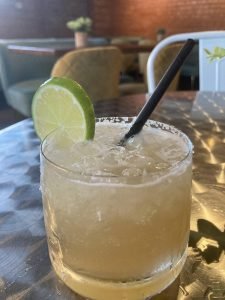 There were several items on the menu I would like to have enjoyed, but I selected the Classic Brekky which consisted of eggs, bacon, sausage hash, and turmeric red potatoes. The eggs were over easy and the only thing missing was a slice of toast to soak up the runny yolk as it began to ooze into my plate.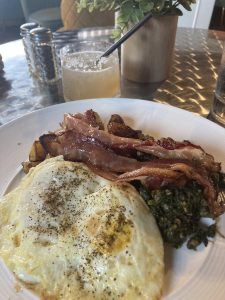 The bacon was tasty. The seasoned potatoes were cooked just right and full of flavor. I'm not going to lie, I was a little hesitant and skeptical of the sausage hash. After my first bite, I was very pleased. The sausage hash was delicious and I would definitely order it again because, to be honest, I couldn't put my fork down.
I must say, this dining experience sparked joy making my heart happy. Quality, fresh ingredients are prepared by people that genuinely care about their customer's satisfaction.  The staff was wonderful on my visit as they were all attentive, helpful, and friendly.
This is a marvelous spot for your next date night whether it's to grab a bite to eat or deciding to have a couple of drinks.  This delightful new addition to the Plaza District is a breath of fresh air. You can tell they've put a lot of love into this new endeavor, as you can feel the love all around.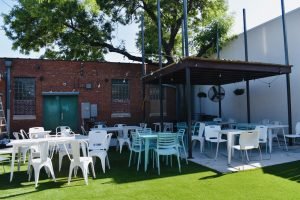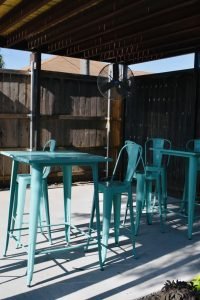 Made with Love's mission is to provide better food for a better quality of living and I think they are well on their way to succeeding at their mission. Enjoy!