The Brew Flight of the week at Cross Timbers Brewing
If you haven't noticed, it's been a few weeks since we did a flight of the week and felt like Craft Beer Week is a great time to bring it back. This week we are drinking with Cross Timbers Brewing Co. This brewery has some amazing beer, great people serving it and one of the best patios in Oklahoma City. On any given day that they are opened, you will find a wide array of people and dogs hanging on the patio experiencing the beautiful weather, playing Jenga, throwing cornhole bags or just chilling around the firepit. They also do movie nights and other fun activities throughout the week. Located on Linwood blvd. directly next to Dead People Things and in the same yard as Edge Craft Barbecue, it's a Saturday hangout all on its own, unless you want to go there one of the other days they are open, and I highly recommend you go early and often. All that beer isn't going to drink itself. Speaking of beer, Cross Timbers is one of the most creative breweries around, created by two guys that loved making beer and have been friends since childhood and decided one day that they would much rather brew beer than go back to work on Monday. There are a lot of amazing beers here, but let's talk about this flight, and this thing is a gigantic barrel full of flavor in four little glasses.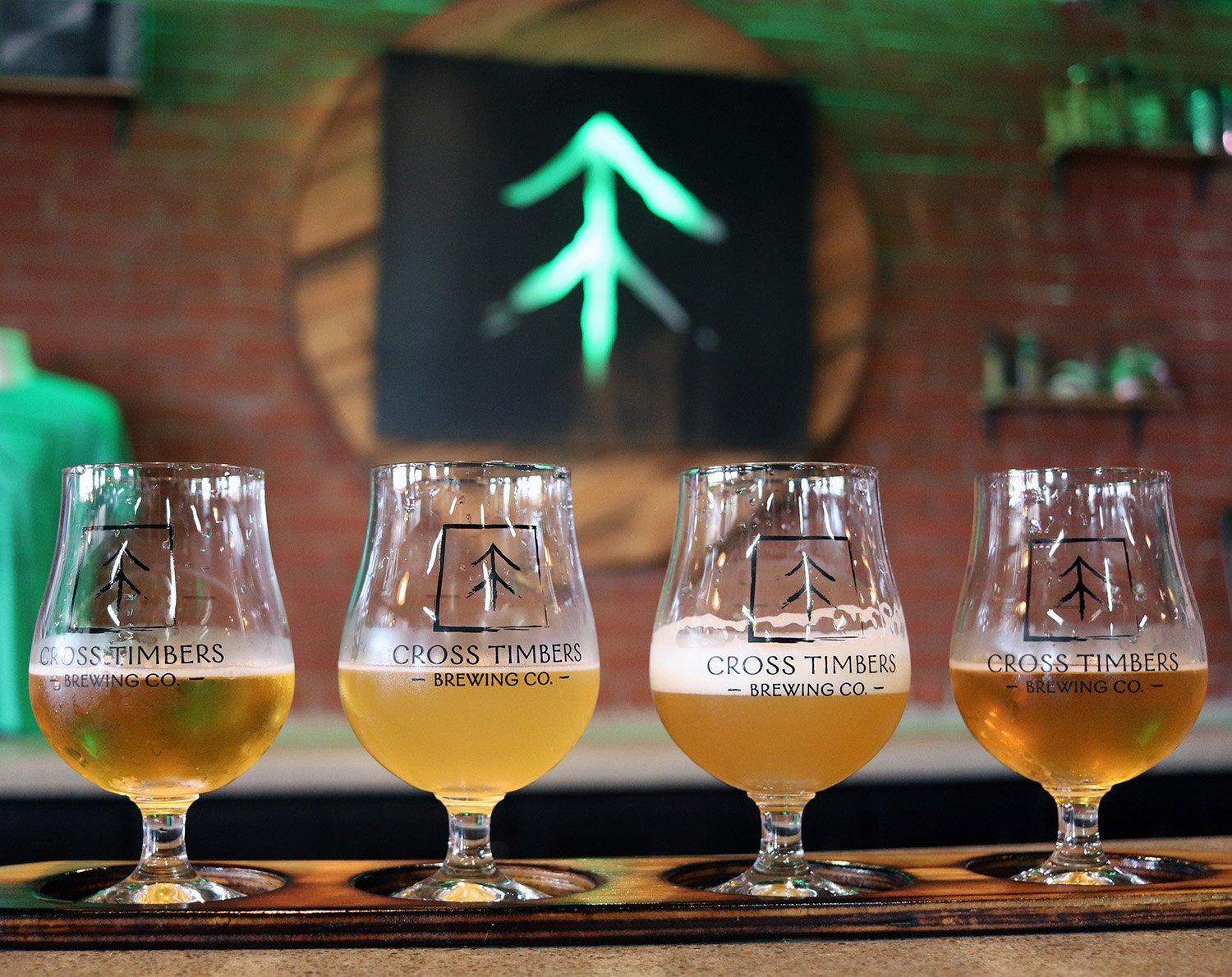 Beer #1 Firelight

This Crisp Pale Lager, finished with Crystal & Mt Hood hops is a fantastic and smooth way to start a flight. It's light and drinkable with great flavor. Firelight sits at 5.5% ABV so it's light but in a substantial kind of way.

Beer #2 Half-assed Blessing

This is a Belgian Single brewed with white peaches and tarragon and OMG it is delicious, it's fresh, crisp, aromatic, and herbaceous. The tarragon really stands out and makes it a truly unique beer. This one comes in at 5.4% making it an all-day drinker.

Beer #3 Trail Mix

This one is a special release and part of a coordination with the Craft Brewers Association of Oklahoma. Each brewery starts with two ingredients, a Pilsner Malt and Cascade Hops, then they work their magic. Cross Timbers chose the Gose route brewed with pink Himalayan salt and coriander. Then dry-hopped with the Cascade hops and aged on pink peppercorns. So, yeah…. It's good, damn good. I may cry when they run out, but at 4.8% ABV it's going to get me through at least a couple hot summer days.

Beer #4 Greenage

A flight at Cross Timbers is not complete without the beer that put them on the map. This is their take on a Gose and is a tart wheat beer with salt, lime, coriander, and cilantro. It's truly a one-of-a-kind beer that keeps you coming back. It's smooth, flavorful and keeps your tastebuds engaged. It sits at 4.8% so it too is a perfect patio drinking summer beer.
So, there it is. Go drink and be merry. Enjoy the patio and then tell us what you think of the Brew Flight of the Week.
BTW, Cross Timbers is at 1900 Linwood Boulevard, Ste 100B, Oklahoma City, OK 73106