Treat Mom to a Special Experience!
There's an old legend that tells a rather entertaining tale of how wine came to be. As the story goes, a Persian woman fell ill with a headache and accidentally drank from a jar used to store grapes. The woman in the story didn't realize the grapes had fermented and, in no modest terms, got very drunk and passed out. When she woke up, her headache was gone.
Despite the lack of a hangover, many women can relate to this tale. And by many women, we mean moms. This Mother's Day is the perfect day to celebrate the mom in your life like the Persian queen she is by checking out some of the best local wine bars across the metro. Here's a look at five must-try Oklahoma City metro wine bars the mom in your life is sure to love.
The Hamilton Supperette and Lounge, located at 12232 N May Ave. in Oklahoma City
This hidden gem in Quail Creek shouldn't stay hidden. Located on the east side of the Shoppes at Northpark, the moment you walk in you'll instantly feel warm and welcomed. With a speakeasy vibe and a laid-back, bookish atmosphere, this is one lounge you don't want to sleep on. Make sure to try the signature Hey Betsey, a mix of champagne, Lillet Blanc, Giffard Crème de Pamplemousse, Cappelletti, elderflower, and strawberry.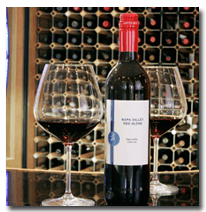 Blu Fine Wine and Foods, located at 201 S Crawford Ave. in Norman 
Not sure if the mom in your life would prefer a night filled with good food or good wine? Get both at Blu. Every appetizer is delicious, and you can order a good mix of food ranging from pepperoni pizza to crab cakes. For medium-sized gatherings, there's also a semi-private room available by reservation and regularly scheduled wine tastings twice a month.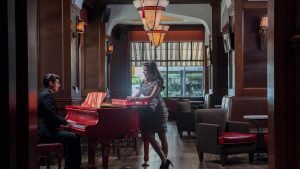 Red Piano Lounge, located at 1 Park Ave. in Oklahoma City
Aptly named for the giant red piano that occupies a corner of the lounge, the Red Piano Lounge boasts an ambiance brimming with luxury. Of course, that might come with the territory because it's located in the historic Skirvin Hilton.
The Study, located at 701 W Sheridan Ave., Suite 100 in Oklahoma City
The Study's catchphrase says it all, "All for wine, wine for all." One of the most welcoming and casual wine bars in the metro, you don't have to be a connoisseur to enjoy yourself. With an impressive wine list and comfy seating, mom is sure to love the peace and quiet The Study provides. Or, if peace and quiet isn't her thing, rent the entire space, invite 49 friends, and throw her a wine night!
The Eleanor, located at 317 NW 23rd St. in Oklahoma City
If bright and bubbly describes the mom in your life, this is the place for her! Touting itself as Oklahoma's "largest champagne lounge," the chic atmosphere is rounded out by a rose wall, gold accents, velvet seating, and a casual "press for champagne" button at each booth. Private events are also welcome and frequently held in the Queen's Room. Need we say more?
Narrowing it down to five was tough work because wouldn't you know it, Oklahoma City is bubbling with wonderful wine bars that would be perfect for Mother's Day! With that in mind, we have to mention a few classics loved by locals: Waters Edge Winery, located at 2001 S Broadway in Moore; Put a Cork In It, located at 115 E California Ave. in Oklahoma City; and Michael Murphy's, located at 119 E California Ave. in Oklahoma City. 
Mother's Day comes around once a year, so now's the time to show the mom in your life how much you care by giving her the perfect gift for any fine woman – a day (or night) filled with fermented grapes, great food, and freedom from her headaches. Happy Mother's Day, moms!