Who Let the Dogs Out? Hank's Hangout at Frenzy Brewing Company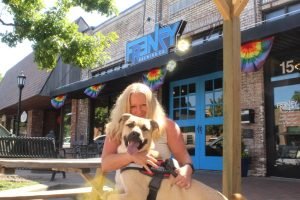 Located in downtown Edmond's historic E.A. Bender Building, Frenzy Brewing Company is Edmond's first (and so far, only) brewery, which is good news for Edmond's pet lovers looking for a cold beer and patio space to enjoy with their dogs.
Opened since July 2020, Frenzy Brewing Company usually has the doors wide open to the expansive tasting room, and from 3 p.m. on, beer lovers and their pets wander in and out to taste the specialized German-style, Belgian-style and experimental brews that are making Frenzy Edmond's popular spot to hang out.
"We are taking the Edmond community on this journey to expand their palate, and in turn, as their tastes expand, we are in turn with what our customer base wants. And we do it really well," said Jeremy Estle, co-owner
Welcome to Edmond's hometown hangout – and Hank's favorite Edmond spot to lounge in.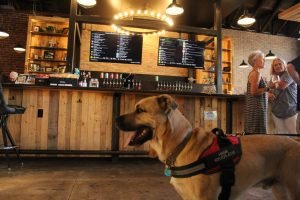 The Birth of a Brewery
Jeremy Estle started brewing while in college in the early 1990s "out of necessity," he said, but he never really thought his brewing hobby would become a true business.
Matt Connor, head brewer and co-owner of Frenzy, was also a homebrewer who began creating beer with his father in the early 2000s. While the two were part of the Red Earth Brewers, they never really connected.
"Matt started winning awards in local brewing competitions, and both of us were getting good feedback from friends and family on our beers," Jeremy said.
"I joined the League of Oklahomans for Change in Alcohol Laws back when Oklahoma was trying to modernize the beer laws, and I told Sen. Stephanie Bice, who was carrying that legislation, that if it passed, I would open a brewery. It did pass in 2016, so she told me, 'Now it's your turn.'"
Connor was already in the planning stage of developing a brewery and had approached Estle about becoming an investor. As time passed, Estle started making his own plans and wooing investors, so when Connor and Estle reconnected, they decided a partnership made the most sense. They began doing contract brewing at the Angry Scotsman brewery to learn how to use the equipment around January 2018, and by June 15, 2020, they moved into the Bender building.
"We opened the day that Phase III of the pandemic restrictions ended, and businesses were opening up again because we thought the pandemic was over," Estle said. "Boy was that wrong. We were right back in the middle of it in a few months, but we slugged it out the last few years. We were a little battered and bruised, but we survived."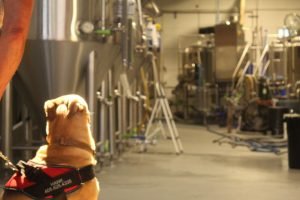 DOGGIE AND FAMILY FRIENDLY
During the pandemic, the City of Edmond instituted a pilot program to encourage outdoor seating, closing off parking spaces in the downtown area to develop seating spaces. In front of Frenzy, one of those outdoor spaces remains after the initiative was a big success.
In addition to the open, family-friendly taproom, the outdoor patio seating is just perfect for dogs as well.
"We always have water bowls available for dogs, and we want our space to be family-friendly. So, we welcome kids, but we also welcome people's fur babies too. It's a great spot to come if you're out walking the dog or just want to come by with your dog," said Estle.
In addition to the wide variety and styles of craft beer that Frenzy offers – including Estle's German flair and Connor's Belgian styles – the brewery also serves up a selection of unique, creative flavors developed by Adam, Frenzy's "mad scientist."
"We complement each other really well. Some breweries find a niche, like being IPA-heavy or doing sours, but we can do all of them."
Frenzy also wants to be the "fun" spot. In addition to live music every Friday and Saturday, the brewery hosts Singo on Monday nights, trivia every Wednesday, and spelling bees every other Tuesday.
"We are the first and only brewery in Edmond's city limits," Estle said. "We are thrilled to have thrived and survived during the pandemic, and we want to be Edmond's gathering spot."
With plenty of shade, other dogs to sniff about, and fun games for the humans, Frenzy definitely gets four "paws up" from Hank.
For more information, visit Frenzy Brewing at 15 S Broadway, Edmond, or Frenzy Brewing Company.